This is our customer feedback page, here you can read comments from some of our satisfied customers. So, I decided just to list all the wicked pissha (Boston accent insert) comments of happy customers. Well, it's better than posting any negitive comments we might of recieved. Call me silly, but I think I'll generate more business with this angle..............
Hi Micheal, January, 19, 2012
I am sorry it has taken me so long to write you this note. I wanted to let you know my first reaction to the truck when I opened it. The first words out of my mouth were "it is just perfect!" I love it and can't thank you enough for doing such an amazing job!
As I mentioned to you earlier, the trunk was my great grandparents and I inherited it about 10 years ago. I was not willing to let just anyone restore it because it meant a lot to me and wanted it done just right! I looked for years to find the right person and was so happy when I finally came across your name and saw your excellent work. You have quite a talent!
Thank you again for helping to bring out the true life in my truck – it will forever be a family treasure!
All the best, Jennifer McHugh, Virginia
Micheal July 30, 2012
Just received the Excelsior G22 Barrel Key that I ordered from you. It works perfectly!
It was the one piece missing from my WWII field desk and now it is complete and operational. Thank you so much!
Will let anyone looking for a key know about your service. Again, Thank you!
Most Respectfully,
Michael T. Weisert
Iowa City, Iowa
I just had to express our satisfaction with the results of the restoration of our trunk. She's beautiful beyond description,well beyond our expectations! Only a person with a love for his craft and an expert craftsman could do what you did. You should be very proud of the work that you do and the happiness that you bring your customers with the quality of work that you perform.
Kudos to you for a job expertly done. It has been a pleasure dealing with you over the past several months and talking to you about our trunk. You have passed on to me a wealth of knowledge about the subject. Also I would recommend you to anyone interested in having a trunk restored. I would be doing them a disservice if I didn't. Affectionately,
Lee & Connie Sarubin
Woodlyn, PA
Micheal, July 28, 2010
I picked up the trunk..............And it is absolutely beautiful!
I picked it up the other day from Greyhound, and it looks fantastic! The wood looks incredibly rich, and the leather looks perfect.
I made the assumption that the metal was supposed to be a cleaned bronze, but the black looks excellent.
Michael, thank you again-- you really do tremendous work!
If I run across another trunk, I will certainly be in touch!
All the best,
Michael Sprintz
New Orleans, LA
Hi Micheal, July 28, 2010
I got the keys yesterday and they work! You were correct in knowing it was an Eagle 178 key. I got such a kick out of putting a key in a lock that is maybe 100 years old and it works first time! Thanks, for all your help. If it wasn't for you I don't know how we would've ever found the key.
Teresa Cunningham Sydney, Australia
Micheal, July, 11, 2010

Thanks - the key worked out great!
The trunk is now stylishly solving our bedroom storage problems.
And the original key was dangling on a piece of string inside.
*lol*
Your service made my day!
Anna Appelberg
Lund, Sweden SE-22237

Hi Micheal, March 8, 2010
36"w x 19.5"d x 22.5"h
Thank you for the photos! We are so happy with how the trunk turned out--it's better than we could have imagined! We just showed the trunk to Kate's folks and they can't believe it's the same trunk that sat in their basement for so many years. They are definitely jealous now!
It was a pleasure working with you, and if one of our friends ever wants to restore a trunk, we know just who to send them to!

Sam & Kate Polk
Brookline, MA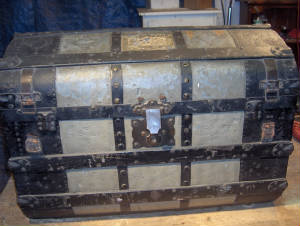 Hi Micheal, June, 8, 2009

We are very pleased to have our trunks restored so meticulously by Island Trunk Shop. Your workmanship and dedication is remarkable. We appreciate being involved from beginning to end as questions came up during the restoration process. Each trunk has a unique story, and it was amazing to have each trunk "reveal itself" during the restoration. We highly recommend Island Trunk Shop to others.

Ray & Maude Chasse
Waterbury, CT

Hello Micheal, June 5, 2009

Sorry for the delay in responding - just moved so everything has been hectic. I picked the trunk (ITS45) out for my girlfriend and decided on one of yours after extensive searching on the internet. What drew me to your trunks was not only the information you had on the different type of trunks but also the information you put out about restoring trunks. It was clear to me that you are very passionate about old trunks and teaching others to restore old trunks. That was a big sign to me that you would take particular care and attention to the work you do - and it shows! I am very pleased with the trunk I ordered and will keep you in mind in the future for other trunks.

Thanks again!
Ben Post
Newton, IA

Good Morning Micheal- April 5, 2007

We just spoke on the phone and I wanted to go ahead and send an e-mail this morning.
It has been a pleasure working with you in getting the correct key for my long locked trunk! The information you have given me on my trunk has been very interesting and I look forward to doing business with you again in the near future.

Best Regards,
Ginny C. - Charleston, S.C.