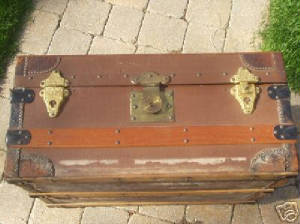 BEFORE
TRUNK # ITS15
Eagle & Excelsior Lock Co., Terryville, CT.
Key # AA
Manufacture:
Alexander McDonald 11 School Street, Boston, MA.
Est. 1852
Dimensions
Length: 26¼" Height: 13¼ " Width: 17¾" Depth: 8½"
We bought this child's trunk from my good friends Janet and Doug of Framingham, MA. on June 2, 2006. This trunk was built in Boston around 1869, she's in unbelievable condition for a trunk over 135 years old. The most interesting thing about is that Alexander McDonald was really known for making document boxes & bags rather than trunks. This one is most diffidently a one of a kind trunk. It has a very sturdy brass latch. With two solid brass draw bolts with a patd. date of Mar.69 (1869) engraved on both of them. All the brass pieces were polished & cover with tung oil for protection. At some point in time someone painted the canvas brown, along with the outer metal trim. Inside was a piece of canvas with its original color of a soft beige to it. I matched it up the best I could for repainting. Home Depot can do wonders matching up colors. At some point this trunk took on some water, because the canvas was unglued from the wood & there were water stains inside. Some stains are still visible, otherwise the pine is fine. All the metal trim was stripped bare & repainted with glossy black Rust-oleum #7779. The five oak slats were sanded to a smooth finish & stain with Golden Oak Minwax stain. The entire trunk was then given four coats of Minwax Tung oil to give it protection & a nice shine. Though it is not shown in these pictures a replacement insert tray was built once again by my good friend John Head of Coleman, Florida.